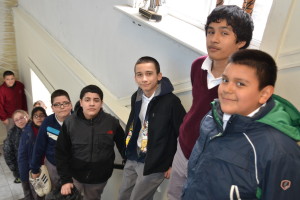 San Miguel School serves students who are academically at-risk and whose families are economically disadvantaged. San Miguel relies almost entirely on community support and donations to operate while currently serving 90 middle school students, over 120 graduates, and over 600 family members.
SMALL CLASSES:  A 10:1 student to teacher ratio ensures that teachers will be able to provide more individual attention and instruction to struggling students.
MORE CLASS TIME: San Miguel students have an 8.5 hour school day and attend school on a year-round calendar! They spend 53% more time in class than required by the State of Illinois.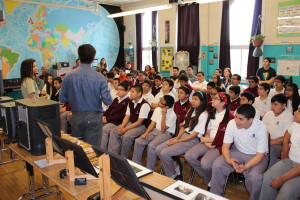 READING & LANGUAGE ARTS FOCUS: San Miguel students read an average of 120 books per year. Each day includes 80 minutes of reading. Although small in appearance, the school library shelves hold 14,000 books!
SERVES THOSE MOST IN NEED:  Accessible to children considered academically at-risk and from families who live on the social and economic fringes of society.
COMMITTED STAFF: Collectively, over 150 years of service to San Miguel School. Their dedication to the students and their families is astoundingly admirable!
PARENTAL INVOLVEMENT: Parents are expected to attend parent-teacher meetings and eagerly assist in event preparation such as Cinco de Mayo and Scholarship Brunches.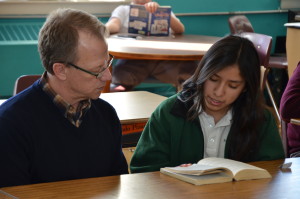 EXPERIENTIAL LEARNING: San Miguel students have the opportunity to travel to Washington D.C. to learn about democratic traditions, as well as Iowa, Wisconsin, and Minnesota for natural environment studies and visits to college campuses!
FAMILY & GRADUATE SUPPORT PROGRAM: Graduates of San Miguel receive continual support throughout their high school years including tutoring, mentoring sessions, and various development activities. Families are offered educational opportunities such as ESL classes and parenting workshops, as well as individual and family counseling services.
_________________________________________
View our 2018-2019 Annual Report
View our 2017-2018 Annual Report
View our 2016-2017 Annual Report
View our 2015-2016 Annual Report
View our 2014-2015 Annual Report
View our 2015-2016 Audited Financial Report