Volunteer Application Procedure
Thank you for your interest in volunteering at San Miguel School Chicago!
Step 1. Meet with a San Miguel staff member to take a tour of school and for an interview. Contact Alison Orbin at 773-890-0233 or aorbin@sanmiguelchicago.org to set up a tour for you or your group.
Step 2. Submit a Volunteer Application Form.
Step 3. You will be assigned a department leader to help schedule your volunteer time at San Miguel School. In some cases, depending on your service, you may be in contact with more than one department leader.
Board of Directors, Community Partnerships, Auxiliary Board, Fundraising Event Committees- Jeff Smart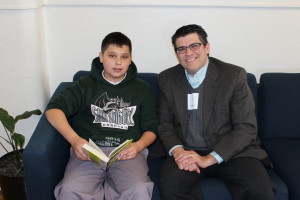 Group Visits, Middle School Programs, Reading, Library, Classroom Assistance- Alison Orbin
Graduate Support, Sports, Family Support- Sophia Cortes-Moreno
Step 4. Individuals who are volunteering on a regular basis (at least once a month) and working directly with students will need to attend a Protecting God's Children Workshop.
This can be scheduled online at: www.virtus.org. Once on the Virtus website, go under "Chicago Archdiocese," then register under "San Miguel School Chicago." This workshop is offered at churches throughout the Chicago-land area. After attending the workshop, send the copy of your attendance record to Sheila Senjanin, ssenjanin@sanmiguelchicago.org (if taken from location outside of Maryville.)
Step 5. Enjoy your volunteer experience and help spread the word about San Miguel!